FAQ
RV Keyless Entry Door Lock
Will lock fit my RV or camper?
---
Check out our FIT GUIDE
---
Can I key alike Keyless Lock and Mechanical Lock?
---
We are not able to key alike Latch.it RV Keyless Entry Door Lock and Mechanical Locks as the key barrels are different and the mechanical keys are different. We do offer Keyed-alike sets for both types of locks, but not across different locks.
---
Do you have RV Keyless Lock for Class A?
---
At this time we are working on a lock for Class A RVs. Subscribe to our newsletter to keep up to date on new releases.
---
Is my RV Door Lock waterproof?
---
Your new Latch.it Lock is waterproof. We highly reccomend not to use pressure washer directly on lock.
---
What do I do if my door is hard to shut or does not shut right?
---
Adjust the strike plate to properly line-up with lock and make sure there is no obstructions. Make sure lock assembly is installed centered and aligned with lock cut out. After installing everything, do not fully tighten, instead close the door and once everything is aligned fully tighten. This will allow the door lock and striker plate to perfectly align before tightening.
---
How long should batteries last in my lock?
---
Battery life is highly dependent on use, temperature, humidity and even altitude. Batteries will last up to 6 months; however we reccomend to remove them during the off season and long periods of inactivity.
---
What type of battery does my key fob take?
---
As of 2021, our current Key Fobs take CR2032 Batteries. This may change as we upgrade our fobs.
---
What do I do if my inside door handle does not open the door?
---
Make sure the interior half is installed properly with handle in locked position. If it is not installed, the latch "tooth" will not engage with the locking mechanism and get the inside door handle stuck. Also, make sure your door thickness is within the FIT GUIDE requirements,
---
What do I do if I loose mechanical key for my Keyless Entry Lock?
---
Please contact us through contact page. We will give you further instruction.
---
What do I do if I loose my Key Fob?
---
You can purchase a new Key Fob in our SHOP.
---
How many key fobs can I link to my lock.
---
As many as you like! We do reccomend keeping it uner 6 key fobs. Follow the same fob sync process described in the manual to pair 1 fob to more than 1 lock.
---
Is my key fob waterproof?
---
No. Key fobs are not waterproof.
---
---
General
Do you ship to Canada?
---
Unfortunately we do not ship to Canada JUST YET. As a small family-owned business we do not have the resources to ship to Canda at this time. However, we do offer most of our products on www.Amazon.ca
---
Can I buy addtional Keys & Key-fobs?
---
We have Key Fob replacements for Latch.it RV Keyless Entry Door Locks & Mechanical Key Blanks for Latchit Keyless Entry Locks available for purchase in our Shop. If you misplace/loose mechanical keys for you Latchit RV Keyless Entry Door Lock please contact us. If you need a duplicate, we do not offer that service, however you local locksmith should be able to make a duplicate for you.
---
Do you have a customer service line I can call?
---
We do not have a phone number to call JUST YET, however we are working very hard to get it as soon as possible. We have a VERY RESPONSIVE customer service team which handles email support and live chat at most hours of the day. Simply reach out and we'll get back to you ASAP!
---
I ordered the wrong lock, how do I return it?
---
Head over to our Returns Page to review return instructions.
---
I forgot to add promo code to my recent order. What can I do?
---
Please contact us within 24hrs of your order. We will be able to manually assist you.
---
Who do I contact with any questions about installing, programming, or functionality?
---
You can contact us via Live Chat or email at anytime for support. You can also head over to our How-To-Videos page that will walk you through each step.
---
What kind of warranty do you offer?
---
At Latch.it we believe in all our products and locks, this is why we offer a lifetime warranty. Be sure to register for your warranty HERE
---
---
Compartment Locks
How do I measure for proper fitment of compartment locks?
---
Measure door thickness and compare to our fitment chart below.
---
I bought the wrong size compartment lock, what do I do?
---
Please contact our customer service team so we can set up a return. Our shipping and restocking fees will apply. (Return Policy) At that time, you can purchase the proper size for your application.
---
---
Mechanical Lock
Will mechanical lock fir my camper or RV?
---
Check out our FIT Guide
---
Can I change out key cylinders in my mechanical lock?
---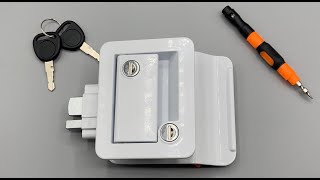 Yes you can, check out this isntructioanl video for how to remove lock cylinder.
---
---
RV Accessories
What do I do if my LED Strip stuck in 1 color or not working?
---
1. Make sure your LED Strip is getting 12V DC power. 2. Make sure all wiring connections are fully mated and making great connection. 3. Make sure there is no pinched or damaged wires. 4. Double check the arrow on the IR controller matches the arrow on the LED strip connector (Not Applicable for 2021 V2.0 Kit) 5. If all else fails, contact our customer service team, we got your back!
---
---